Click to access:
Article
Author: Paul Meyer
Senior Fellow, The Simons Foundation Canada | Chair, Canadian Pugwash Group | Senior Advisor, ICT4Peace
Cyberspace, the broad term for the system of networked computer systems for which the Internet is the chief embodiment, is a unique, human-created environment. The potential of information and communication technology to benefit humanity is vast and the growth in its use world-wide has been exponential. Today close to four billion people are connected to the Internet and a community of "netizens" has emerged.
Unfortunately, the growth of cyberspace has not been matched by a similar development of global governance for it. Even more worrisome, is the degree to which cyberspace has become "militarized" with states developing capabilities, not only for the defence of their own systems, but also offensive capabilities that threaten damage and destruction to entities beyond their borders. These trends within national security establishments of leading cyber powers have accelerated and the detrimental impact of cyber operations on civilian interests has grown. A narrative of "cyber war" has been espoused by major states, depicting this remarkable product of human ingenuity as just another "war-fighting domain".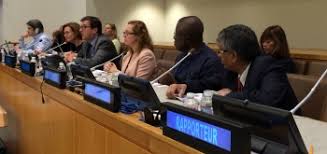 Read more
Related Videos and Podcasts
65. Hacking the Bomb
https://youtu.be/-q1OqFsJNQQ
• Andrew Futter, Associate Professor of International Politics, University of Leicester
• Hans-Christian Breede, Associate Chair of Public Administration, The Royal Military College of Canada
59. Social Media Risks
https://youtu.be/sacSsgA5YhY
• Lisa Schirch, North American Research Director for the Today Institute.
55. A.I.and You
https://youtu.be/ty7nG9Bt9WU
• Cesar Jaramillo, Director Project Ploughshares
• Branka Marijan, Researcher Project Ploughshares
27. Assessing Risk of Global Threats
https://youtube.com/watch?v=vf4mzBTGBXw
• Mark Sedra, Adjunct Professor, Balsillie School
32. The Cyber Impact
https://youtu.be/VTsVZFu0eq0
• Branka Marijan, program officer, Project Ploughshares
• John Daniele, VP, Cybersecurity (GTA)
9. Preventing Cyber Threats
https://youtu.be/9qtwkkvYWGg
• Jack Gemmell, Toronto lawyer
• Paul Meyer, Former Canadian Ambassador for Disarmament
• Allison Pytlak, WILPF


Formatting Options For Comments
To enter a comment or post a share first wait a moment for the page to refresh/reload. Then click into the comments textbox and posting information will dynamically appear as a response to your click. Click on the appropriate icons for inserting an image but please don't attach videos this way. Simply type or paste the URL for the video into the comment and it will embed a preview into the page. The link when clicked will take you to the video itself. If you wish to boldface, underline, or italicize you can follow the formatting instructions below. When editing the only way to scroll within the box is using the arrow keys for up and down. You may also double click to expand the textbox.
Use the following html like code commands wrapping your text in the tags.