How To Listen to a Podcast
You can listen easily by clicking on one of the episodes listed below. However, to receive a new episode each week, review our show, or listen to more than 100,000 other podcast series, you need to install an app on your mobile device. Here's how:
If you are an Apple user (iPhone, iPod, iPad)…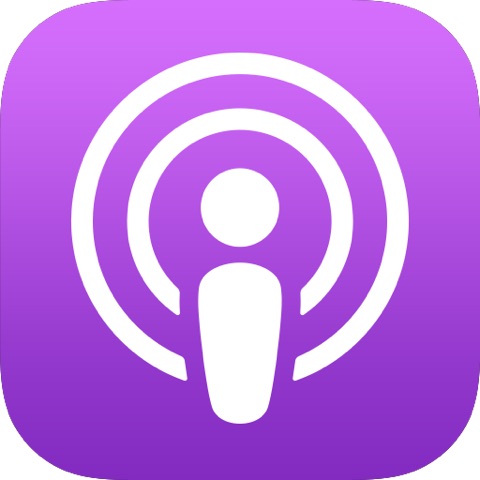 Go to the online store where you can obtain new apps and download a podcast app, as shown above. (We hope you're able to use the Apple app so you can rate and review our podcast, but if you have an Android phone, that is not possible.)
Click on the app and search for "projectsavetheworld" to find our podcast. (Be sure to spell it as a single word.)
Click one of our episodes to hear the discussion. Enjoy!
Click on "Subscribe" to have a new show delivered to your device each week.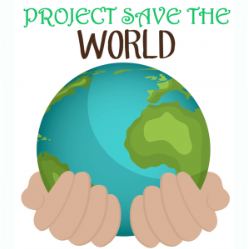 How to Leave a Review
Here's our guide to finding and rating/reviewing Project Save the World's podcast series, either on the portable Podcast app or on iTunes for Windows:
On your iOS mobile device, launch Apple's Podcast app. Review
Tap the Search tab in the lower right corner of the screen.
Enter the name of the podcast you want to rate or review (in our case, this is projectsavetheworld's podcast). Tap the blue "Search" key at the bottom right (which looks like a magnifying glass) or tap the podcast name on the drop-down list.
Tap the album art for the podcast (our logo of hands holding the world).
Tap the Reviews tab, then scroll down to near the bottom of the screen.
Tap "Write a review".
If you are not already signed into iTunes, you will be asked to enter your iTunes/Apple password to login.
Tap the Stars to leave a rating.
Enter a title for your review in the small box, then type your review in the larger content box. A single sentence is enough.
Tap Send.
Podcast Feed
Here is a list of podcasts, all of which are based on the weekly video chats which began in April 2018. Click on a forward arrow (from the list below) to open a show, or visit all shows at once at projectsavetheworld.libsyn.com.

Episode 165: Citizens' Climate Lobby (video link)

Mark Tabbert and Philip Chipman are active in Citizens' Climate Lobby, an NGO which has been quite effective in working for carbon taxation. They show Metta a remarkable tool that enables one to explore the interactive implications of changing various factors that influence the global temperature. Clearly, carbon taxation is the most effective achievable method of limiting global warming.

Episode 164: Cynical Theories (video link)

Robin Collins discusses a book called "Cynical Theories" that he admires. It criticizes the merger between critical theory and post-modernism, which has led progressive thinkers to switch from universalist, "color blind" commitments to tribalism that replaces class-based analyses. Collins and Metta agree in their opposition to this "tribalist" ideology.

Episode 163: Russian Military in the Arctic (video link)

Ernie Regehr studies the military activities of the countries extending above the Arctic circle. He reports that the Russian military presence is expanding greatly. It is already far more active there than other states, but fortunately they all remain cooperative. If significant conflicts arise there, it will probably be as spill-over from disputes elsewhere in the world. We look at the new shipping routes that are being developed because of global warming.

Episode 162: China's Climate (video link)

William Fletcher has traveled extensively in China and is co-author of a book about climate change, so he and Metta discuss China's energy problems — especially the pollution caused by its heavy reliance on coal. He predicts that China will adopt more sustainable technology in a timely fashion and benefit from the sale of turbines and similar "green" technology to the world. 

Episode 161: Improving Forest Management (video link)

Parag Kadam's research is comparing the effectiveness of various methods of upholding good standards of forest management. He has worked for an organization that certifies particular companies for maintaining good procedures. Still, as he tells Metta, far more progress is required to save the planet's forests.

Episode 160: Enter, Treaty on the Prohibition of Nuclear Weapons! (video link)

Earl Turcotte, chair of CNANW, explains to Metta how the nuclear weapons ban treaty was created. It will enter into effect as international law on January 22, and numerous NGOs are planning events to call attention to it and urge the Canadian government to sign and ratify it. People in other countries are doing similar things. We talk about the prospect that a NATO country can advance the disarmament process by taking a strong stand.

Episode 159: A World of Migrants, Subha Xavier (video link)

Subha Xavier studies the literary productions of migrants to Francophone countries from elsewhere. She and Metta discuss the psychological challenges of meeting unfamiliar and mixed expectations, as well as the pain of actual racism. She has been "curing" the ballots that were rejected in the recent Georgian run-off election of two senators, and found that these were disproportionately among black voters who welcomed her more because she is a "small brown woman."

Episode 158: Democracy and War (video link)

Marc Eliot Stein is a web designer and fervent peace activist with World Beyond War, an effective organization that seeks the abolition of war. He and Metta are conversing here only hours after the insurrection at the US Capitol, and they agree that the democratic governance of the world (and of specific nations) requires the rejection of militarism. They discuss the potential for adopting a Green New Deal and recognize that that prospect will depend on greater cooperation about activists working against a comprehensive system that is causing multiple societal problems.

Episode 157: Maria Puerta Rivera on Hispanic (video link)

Maria Puerta Rivera is a political scientist from Venezuela who lives in Florida now and studies the voting patterns of various immigrant populations in the US. She and Metta discuss the support of Trump by many Cuban and Venezuelan immigrants.

Episode 156: Art Hunter on Living off the Grid (video link)

Dr Art Hunter is an engineer who has turned his home into a laboratory to experiment with efficient energy use. He shows Metta how he has managed to live off the electric grid for the past 300 days, both by conserving, storing, and generating energy in the household.

Episode 155: Populism, Reaction to Globalization? (video link)

Berkeley sociologist Ann Swidler, Globe and Mail columnist Doug Saunders, and Focus on Foreign Policy editor John Feffer join Metta in a conversation about the societal changes that lie behind the rise of right wing populist movements. Ann blames "localism" (as opposed to cosmopolitanism), which is a version of the theory that it is a (justifiable) reaction against globalization.

Episode 154: Ethnic Conflict (video link)

Paul Copeland, Martin Klein, Louis Krieger and Doug Saunders discuss with Metta the challenge of protecting human rights in situations of ethnic conflicts around the world–currently especially in Myanmar, the Caucasus, Hong Kong, Xinjiang, and even (with respect to indigenous rights ) in Canada, New Zealand, and the US.

Episode 153: Craig Smith on Corporations (video link)

Craig Smith is an engineer who has been president of a major construction company, which among other projects renewed the Pentagon. He is co-author of a book about global warming, Reaching Net Zero. He and Metta discuss the trend among corporations to become either carbon neutral or, in the case of Microsoft and some others, carbon negative. At the end, the conversation turns toward various proposals to make corporations more accountable in their governance to society's wellbeing.

Episode 152: Peaceworking in Armenia (video link)

The Gandhian activist Jill Carr-Harris spent several months in Armenia after her cross-continent peace march was interrupted there by Covid. She had also visited Nagorno-Karabakh before the march, getting blacklisted by Azerbaijan for doing so without their permission. Soon the area was at war, and she recounts to Metta the history that led to it. She would hope for a revival of the OSCE's "Minsk Group," which was supposed to find a lasting solution to the frozen conflict that resulted from the previous war.

Episode 151: Climate Tipping Points (video link)

William Fletcher tells Metta about five tipping points — hypothetical moments when a linear rate of change breaks and a grave irreversible trend begins, such as a movement of the Gulf Stream, which changes the climate of Europe, or the breaking off of ice shelves in Antarctica, which enables ice on the continent to slip off into the sea and raise its level. Bill and Metta disagree as to whether the reduction of greenhouse gas emission can suffice to bring climate change under control.

Episode 150: The World in December 2020, Part 2 (video link)

In Part 2 of Project Save the World's Global Town Hall, we discuss the challenge of improving democracy, especially the fact that big moneyed interests strongly influence the media so that voters are not well enough informed to make good decisions.

Episode 149: The World in December 2020, Part 1 (video link)

This is part one of Project Save the World's monthly town hall. We discuss the power of billionaires and ways of making the global economy more equitable.

Episode 147: Trouble in the Caucasus (video link)

Irakli Kakabadze is a Georgian poet and peace activist who has recently co-founded a Gandhian foundation in Tbilisi. He tells Metta that the situation in the south Caucasus is alarming since the recent war over Nagorno-Karabakh. A coalition is developing among Russia, Turkey, Azerbaijan, and possibly other countries — greatly to the detriment of Armenia. Indeed, he predicts genocide unless the international community intervenes.

Episode 146: Recap 3, December 2020 (video link)

Here we have excerpts from three of Project Save the World's talk show, "World Repair Shop": Craig Smith on Agriculture and Climate Change; Paul Copeland on the Rohingya; and Gordon Edwards and Susan O'Donnell on Small Nuclear Reactors. You can comment on this and other recorded conversations about serious global issues on our website, https://tosavetheworld.ca.

Episode 145: Colin Archer (video link)

Colin Archer was Secretary General of the International Peace Bureau for 27 years. Now in retirement, he and Metta discuss the organization's history and the challenges of building coalitions that integrate activists across different issues and geographical spaces.

Episode 144. Walter Dorn on Novichok (video link)

Walter Dorn teaches military officers and is a devoted peace worker. He tells Metta about the new addendum to the Chemical Weapons Convention, which specifies Novichok as one of the forbidden chemical weapons. Everyone already knows that it is prohibited, but this added provision will make it easier for the OPCW to investigate alleged breaches. We speculate on the intentions behind Putin's apparent choice of this agent: Is it meant to be detected just to send a warning to others? This one of Project Save the World's daily talk shows on YouTube, which you can see live or later on https://tosavetheworld.ca.

Episode 143. Recap 2, December 2020 (video link)

Here are clips from four recent "World Repair Shop" talks. Ann Swidler talks about the factors making for NGO success in Africa; Koozma Tarasoff gives a short history of the Doukhobors; Rev. Joseph Cimpaya discusses his work improving agriculture in Africa; and Steven Staples discusses with Metta his plans for continuing Kingston, Ontario's Peace Quest. Viewers are invited to discuss these topics on our website, https://tosavetheworld.ca

Episode 142. Recap 1, December 2020 (video link)

Project Save the World now holds daily talk shows, live on YouTube every weekday from 12:30 to 1:00 pm Eastern Time. Then at the end of the week, we make a composite one-hour-long show from the clips of that week's show and broadcast it as a numbered "Recap." This one features Adele Buckley on China in the Arctic, Kathrin Winkler on peace activism in Halifax, Subir Guin on the conflict between India and Pakistan, and Andrew Sheldon on his plans for a worldwide campaign on nonviolence.

Episode 141: Love our Trees (video link)

Eric Davies, Parag Kadam, and Theri Reichlin are young foresters who met as students in Toronto. They tell Metta and Adam Wynne about their current work. Eric is working with corporations, and he sees that they have much to contribute in urban forestry. Parag is interested in the economics of managing common property, including forests. Theri is teaching school children how to plant trees and look after them. They are all worried about the deterioration of biodiversity, especially in cities.

Episode 139: Saving Carbon in Soil (video link)

Tom Newmark runs a farm in Costa Rica with a lodge for visitors who want to learn about regenerative farming. He co-founded The Carbon Underground, an organization devoted to promoting improved methods of farming that sequesters carbon in soil — a technology that is probably the most promising of the many solutions to the climate crisis. Here he chats with Metta, Peter Meincke, and Adam Wynne about these possibilities.

Episode 137: Canada's Arms Trade (video link)

Cesar Jaramillo is director of Project Ploughshares and Kelsey Gallagher works there studying the global trade in conventional arms. They discuss their concerns about Canada's failure to obey its own laws regarding the export of weapons to countries at risk of misusing them.

Episode 136: The World in October 2020 (video link)

This is the October meeting of Project Save the World's monthly Global Town Hall. We were celebrating the ratification by Honduras of the Treaty on the Prohibition of Nuclear Weapons, for this was the 50th ratification, which means that in 90 days it will take force as an international law. Regrettably, it will not be binding on the very countries who are affected by it — those states that actually possess nuclear weapons. Therefore, we talked about the choices of next steps to bring them into line, and begin abolishing these hideous weapons. After that, the conversation spread out to cover a wide range of topics, as activists from Russia and Burundi shared their concerns.

Episode 135: Venezuela Now (video link)

Angel Alvarez and Maria Puerta, expatriates from Venezuela, join Alba Purroy, who remains in Caracas as a peacebuilder, in briefing Metta on the sources of the political impasse between two groups claiming the right to govern their homeland.

Episode 134: Von Hippel vs. the Nukes (video link)

Physicist Frank von Hippel worked with Soviet scientists to halt the nuclear arms race during the Cold War. Because Gorbachev shared their attitude, they largely succeeded, as he explains to Metta. He continues studying the safety aspects of nuclear power and promotes a ban on the reprocessing of nuclear waste to recover plutonium. Apart from its danger to human health, plutonium is a risk because of its potential effects on the proliferation of nuclear weapons.

Episode 133: Jai Jagat and Armenia (video link)

Jill Carr-Harris led a group of Gandhian marchers from India, planning to reach Geneva a year later — but the pandemic struck. She tells Metta about their adventures in India, Pakistan, Nepal, UAE, and (especially) Armenia, where they learned about the tensions over Nagorno-Karabakh. Now that war has broken out again there, she wants Canadians to press for the CSCE to complete its peacemaking task.

Episode 132: The World in Sept. 2020 (video link)

This monthly Global Town Hall meeting discussed innovations to help reduce global warming; Covid-10's effects in Nepal; the wearing of poppies in remembrance of wars; and the depletion of frogs because mosquitoes are being vanquished. Activists are invited to these events on the last Sunday of every month.

Episode 131: Reaching Net Zero (video link)

William Fletcher and Craig Smith are co-authors of an optimistic book arguing that it's feasible to reduce carbon emissions enough to prevent a global catastrophe, using known, available technologies.